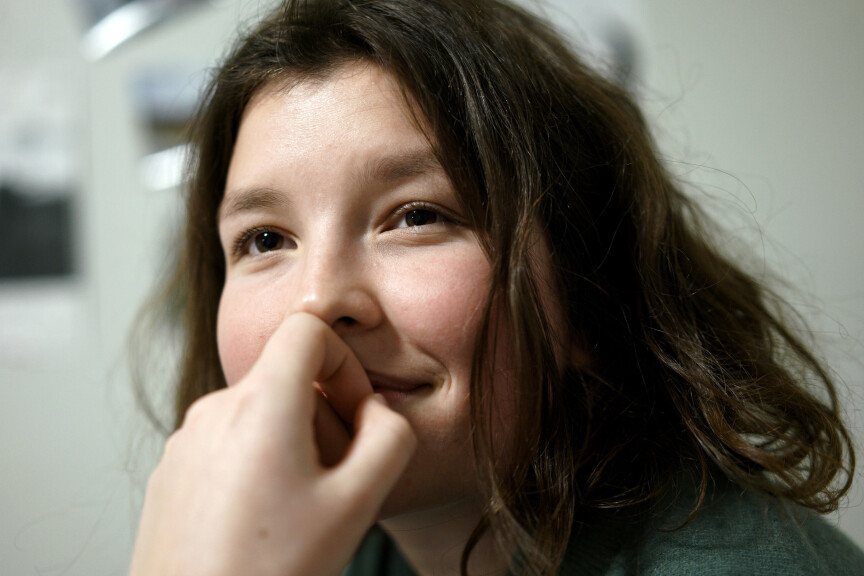 Juliette on student exchange in Norway:

Almost like six months' holiday
Student exchange.

24 192 foreign students came to Norway last autumn to study. French student Juliette Mercier was among them. Here are her thoughts about the freedom of the study programmes, the buddy week and public showering in Norway.
(This interiew is also published in Norwegian.)
She opens the window and looks down at the frozen street. The sky is dark, and a cold breeze wafts past her, into the student lodging's kitchen, loaded with naan bread and exotic teas.
— I prefer it now that there's some snow, she says as she sits down at the table again, the window now closed.
— It's quite magical to walk around outside and look at the patches of snow underneath the streetlamps. It's very different from home. But the darkness is tiresome, it feels as though it's almost always night-time.
This is Juliette Mercier's final week in her student lodging — a double bedsit on the outskirts of Oslo that she shares with a friend.
She has not yet done her packing.
— It's sad to leave, but will be nice to come home, she says.
Freedom
— Most likely I will always compare my studies here with my studies in France, and they are very different, says Mercier.
She is from Paris, where she normally studies psychology. However, this semester she has instead attended the University of Oslo.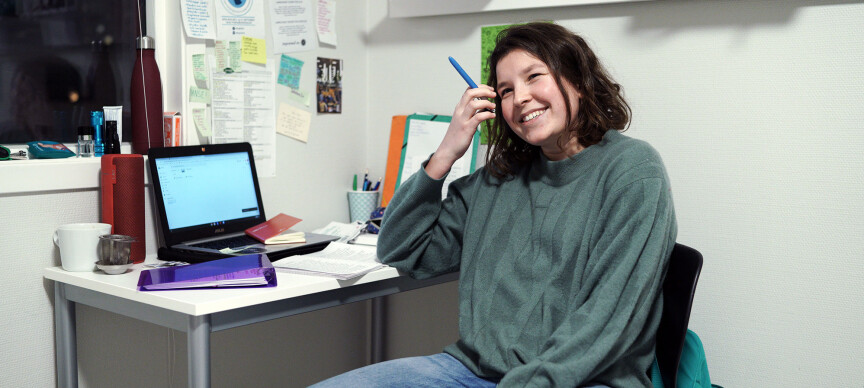 One of the things that Mercier likes about higher education in Norway is the freedom offered by the study programmes.
— In France, it isn't possible to choose many courses oneself, especially from other disciplines. Here I only took one psychology course, and also courses from the gender studies and ethics programmes, which was fantastic.
— In a way there is more homework here, but fewer lectures. In France, I usually sit in all day in the classroom, she says, and continues:
— If you want to take a week off to travel, you can do that here. It's up to you when you want to work on your studies. It was almost like a six-month-long holiday.
Buddy week
It was a slight coincidence that brought Mercier to Norway.
She contacted her university administration asked whether there were any more places available for an exchange student. She told them that she could travel at any time.
— I didn't actually want to go on an exchange, but two days before the deadline all my friends were saying that they were going on exchanges, and to where they were travelling.
— And they said that there was a place available in Norway, and I accepted it immediately. I had already visited Sweden and Denmark, and I loved those countries, so it made sense to go.
She moved into a Student Welfare Organisation residence with a friend in August, and was surprised by the start of studies programme.
— I wasn't prepared for buddy week. In France, you are friends with the person sitting beside you in lectures, but here you don't know the person next to you at all. Instead you have to introduce yourself to the buddy group, and play games, and we just thought: What is this? Summer camp?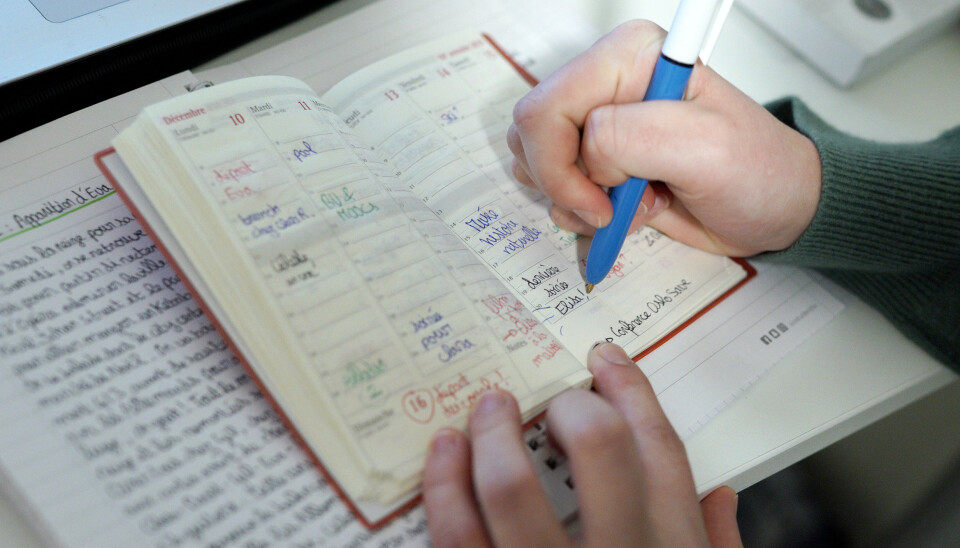 The first day in Norway, the buddy group went to Sognsvann Lake and Mercier explains that this suited her just fine.
— I'm not a city person. I like to go hiking, which is something very nice about Norway, despite the cold. And Oslo is a fine city, because you can always slip away to parks or take a boat to one of the islands, and the streets are not too crowded, and I could see the fjord on my way to university.
— There was even a river on campus, she adds after a pause.
Lecturers
Mercier emphasises that she felt she was treated differently as a student here, compared with her home university.
— I felt that people had more respect for the students. At UiO we even had a big opening ceremony with the Mayor of Oslo. This would never happen in France.
She says that in France, students are first and foremost taken seriously if they go to a prestige school.
— If you tell someone there that you are studying at a university, they usually reply: «I hope that at least they are treating you okay there». Here in Norway, going to university means something, and a bachelor's degree appears to have a value.
She adds that even the lecturers treated the students differently.
— I once asked a question during a lecture, and the lecturer said that it was interesting and we could discuss it further in her office later, says Mercier, and adds:
Surprises
— I thought it would be strange but I went anyway, and she showed me her favourite pictures of her cats, and it was wonderful.
— When I first arrived in Norway, I expected a country with complete gender equality and in touch with nature, because that's what people say about the Scandinavian countries.
Mercier says that she felt the contact with nature to a large extent, but the gender equality less so.
— There is still a way to go, even here. That was a surprise, as I thought you had solved all these problems.
As an exchange student, she says that it is absolutely necessary to be friends with other exchange students in order to have a functioning social life.
There were also surprises with regard to the Norwegian disposition.
— I'm not saying that Norwegians are not friendly, because you are. However, many Norwegian students already have their own lives here. If you ask if they want to go and see the northern lights, they have already seen them, or they have to work, or practice their drumming, or whatever else.
One of the first things that the exchange students were told was that it is difficult to have contact with Norwegians, which she felt was quite correct.
— All Norwegians shower naked in public showers, at swimming pools and so on. And even in changing rooms you just strip off your clothes. That was weird, but I've become more comfortable with it.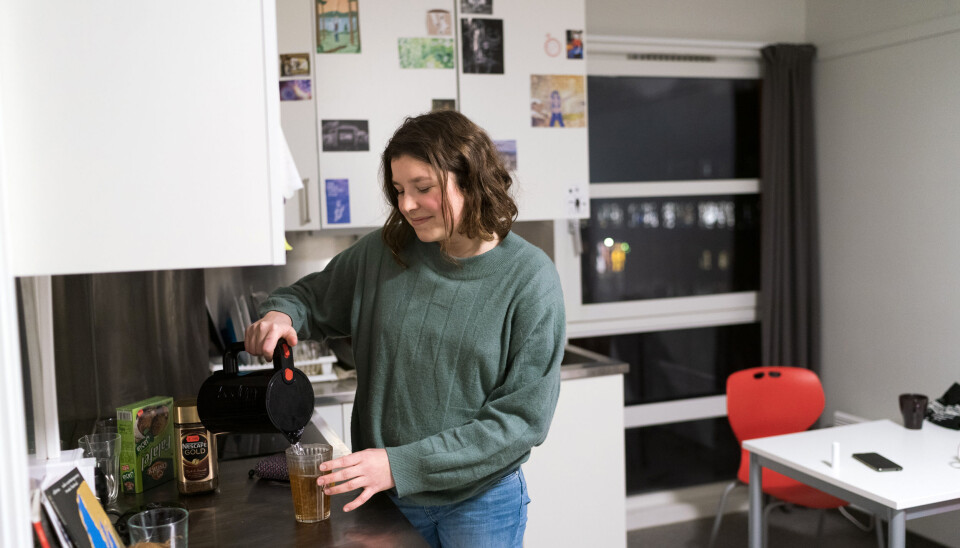 — For example, you don't just start a random conversation with someone on the bus. I always say 'hello' and 'thank you' to the driver, but he mostly acted as though he didn't hear me.
Mercier says that she loved her study period in Norway, but she is unable to say that it was primarily because of her studies..
— If you are ever going to study in Norway, join the orienteering team, she insists.
— And try to go to a Norwegian party, even though you may need help with translation. And be careful not to slip on the ice.
(This interiew is also published in Norwegian.)