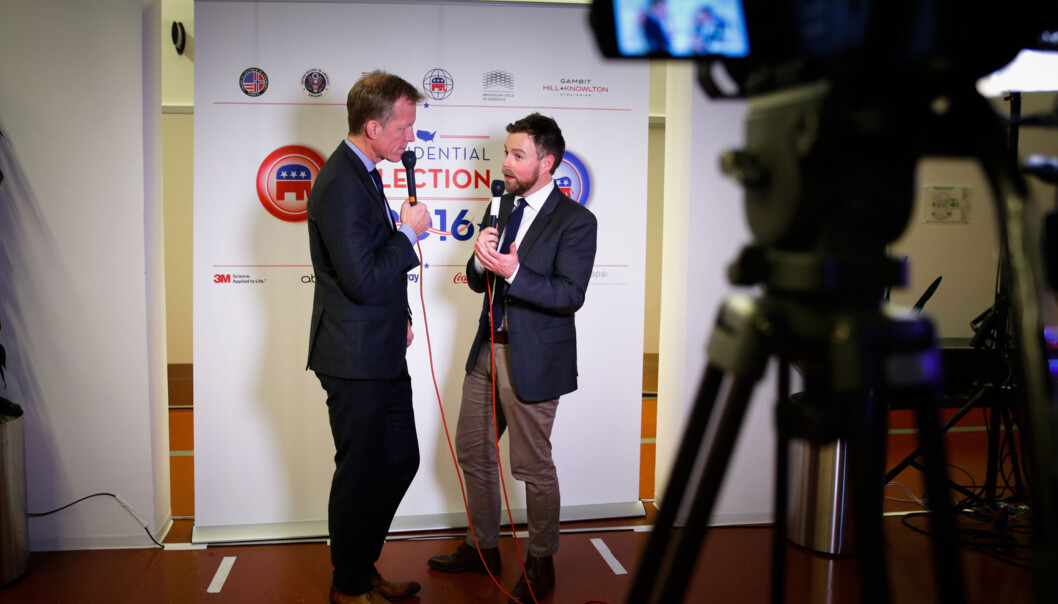 When they go low, we go high
Donald Trump's attitudes about protectionism and immigration are going to damage the economy. That damage is going to affect a sector I care deeply about, namely higher education and research, writes rector Curt Rice.
For the last day and half, I've been trying to convince myself that I'm in the business of hope, with the idea that that might give me a path to feeling it myself. But it's hard.
I mean, education *is* about hope. That's not difficult to believe. Education lifts people out of poverty. Education creates the middle class that is so dominant here in Norway and so threatened in my home country.
Education moves societies forward. We need more education; better education. We need it to have highly skilled professionals who can improve the standard of living in our country and our world.
When I think like that, I can convince myself that education does create hope - hope for individuals, dreams for their families, the promise of betterment for society.
But yesterday morning as I left a breakfast event at HiOA, which was the conclusion of the all-night American Election Party we had hosted, I couldn't find it. I couldn't find hope or dreams. I had just witnessed the ambassador of the United States making a speech in which he felt it necessary to reassure those present that good relations between the United States and Norway would continue. I had just heard a prominent American guest say privately to me, «You're lucky; you have a permanent job here.»
Donald Trump is an anti-intellectual, he is skeptical of the content in schools, and he engages in conspiratorial thinking about scientific issues (..)
Curt Rice
I feel very strongly about the rhetoric of the Trump movement. I actually do hate it.
Curt Rice
But one thing I know, is that my students have hope.
Curt Rice
This isn't the language of «business as usual.» It isn't the language of «ja, ja, sånn går nu dagan. Det her skal gå bra."» It's actually the language of deep concern, and maybe even fear.
As I left that breakfast meeting, I went down the stairs from our grand ballroom at HiOA, which is in a building that houses our Fakultet for lærerutdanning og internasjonale studier, and I walked towards the door out to the heart of our campus.
On my way out, I met dozens of students on their way in, headed to the first class of the day. A flock of 20-year olds who have made the choice to train themselves to become teachers. Think of the hope that is behind such a choice. Teachers. For schoolkids. Shaping the future. Today's 1- and 2-year olds are going to have these HiOA students to follow them through the beginnings of their education. 
We're talking about a hundred-year perspective here. I met the students who are going to teach kids who are going to be alive in the year 2100. In fact, at the ends of their careers, they'll be teaching kids who are born in 2050 and who might see 2150. That's closer to a 150 year perspective about what happens in a classroom at HiOA today.
As I thought about this, I did start to feel hope. I did start to believe that there will be a future. But that future, which begins right now, is going to have a rough start. Every economist on the planet believes that Donald Trump is going to plunge us into a worldwide recession.
His attitudes about protectionism and immigration are going to damage the economy of the United States, and they're going to damage the economy of Europe, including Norway. 
That damage is going to affect a sector I care deeply about, namely higher education and research, and I'd like to share some reflections about that with you.
While it is the destruction of the economy that is going to be the main cause of this, there is more to the context when we talk about damage to higher education. Donald Trump is an anti-intellectual, he is skeptical of the content in schools, and he engages in conspiratorial thinking about scientific issues like climate change, which is to say that he believes that knowledge and research are not the paths to understanding.
With that contextual background, he is going to destroy the economy. What will this mean for institutions of higher education in the US and what will it mean for us in Norway?
In the US, there are about 4,000 institutions for higher education. Many of those are small colleges like the one my son currently studies at, Concordia College in Moorhead Minnesota. There are a couple of thousand students there who have excellent educational offerings.
But a very high percentage of the budget of the institution is based on tuition — skolepenger. And that means that variation in student numbers has a big impact. Concordia recently saw a significant reduction in their student body, and that has led directly to cuts in programs and firing of faculty — something that is almost inconceivable here in Norway.
Many US institutions are going to disappear in the coming years. They won't be able to successfully compete. Those who survive will become lean deliverers of higher education. They will become effective. They will improve quality at the same time as they cut costs. 
Think about that: they will improve quality as they cut costs. Where is that debate in this country? When we talk about cost cutting in Norway we seem to assume that it means a worse overall result.
Part of the improvement of quality that will come in the U.S. will be connected to the digital revolution and new ways of delivery. As that happens — and it already is — then HiOA's competitors are not only BI and UiO but also the University of Arizona, Stanford, MIT and Harvard. U.S. institutions are going to offer high quality degrees online to students who are sitting here in Oslo. They're going to admit students for degreees. Lånekassen is going to engage, and all of a sudden, the whole competition situation is profoundly different.
Today in Norway, absolutely no one is talking about this. And the Trump presidency is going to make it more acute because the economic turmoil he is going to cause is going to sharpen those who can survive.
That same economic turmoil is also going to affect our institutions in Norway directly because we're going to have to become more effective, perhaps more quickly than we had expected.
Here's what I would like to do in the face of this competition. I would like to work with those institutions in the US and elsewhere that become super effective in delivering higher education. I would like to be able to say to students in my barnehagelærerutdanning that while I'm very sorry we have to cut your valgfag options, I have a way to make up for it.
You can take your electives somewhere else, but you don't actually have to go there. We have identified 10 online, credit-yielding courses at international institutions, and you can sign up for one or two or three of them and count them as part of your degree here in Norway. That's what I'd like to say.
Why, after all, does taking a degree at HiOA mean taking all your courses at HiOA? That is a view from yesteryear, but the problem here is that it's entrenched, even institutionalized. We have an accreditation agency that has responsibility for the courses that make up a Norwegian degree.
I want that responsibility delegated to each institution, and not only for courses we offer internally. I want to be able to put together degree programs for my students that are partially based on on-campus teaching and partially based on online teaching, where the online options might come from HiOA staff but might come from others.
Think about what this might mean. Imagine if I could say: Come to HiOA and take courses at Harvard! 
Harvard, by the way, has a system in place for doing exactly this. The barriers are on the Norwegian side.
There's so much more to say about this, but I bring it up today just to give a glimpse of what I think this election is going to mean in my sector.
The reason I mention these things is that this election is going to have an impact. It actually does matter who is in the White House.
In that context, I want to say a little more about the election and HiOA. 
Because I'm basically an optimist, I want to ask myself what opportunities are going to come our way. And while it's depressing to start looking for opportunities in a recession, that is in fact the only way out of that coming recession.
HiOA has a responsibility to communicate knowledge to society. We do that in many ways, and one of the ways we did it this week was by hosting the American Election Party on Thursday. We took an educational approach and had a series of seminars leading up to that day, and a series of lectures and debates that night.
It was a great party, full of energy, with American food, drinks, music, and even cheerleaders. It seemed like half of Norway's government was there. Lots of people who love the US. Many Americans, too. But the energy didn't last. And by breakfast, the shock began to set in …
I told you already how I experienced the end of that event. Let me add just a little to that. 
I don't want to be numb, or depressed, or panicky. I don't want to participate in the cult of hatred. I want to find a way forward. And after I had met those students I already told you about, I went home and I read two quotes and tried to ask myself what they mean for me today. Let me share those with you.
The first comes from Dr. Martin Luther King Jr., who said: «Darkness cannot drive out darkness: only light can do that. Hate cannot drive out hate: only love can do that.»
What does that mean for me today? I feel very strongly about the rhetoric of the Trump movement. I actually do hate it. What is the guidance Martin Luther King Jr. offers here? How can I live that out?
The second quote comes from Michelle Obama. Maybe you heard her speech this summer:
«When they go low, we go high.»
She, too, is a powerful moral voice in today's world. I'm trying to figure out what those quotes demand of me. And I offer them here today, in the hope that you, too, will accept that challenge for yourselves.
Like I said in my introduction, it's hard. But one thing I know, is that my students have hope. Their adult lives are in front of them. They don't want to hate. They don't want to go low. They want to engage, to argue, to influence. They want to teach. They want to go high. And I feel so lucky to live my days around them. Perhaps this week more than ever.
(Innlegget er basert på talen som Curt Rice holdt i Oslo Rotary Klubb torsdag.)