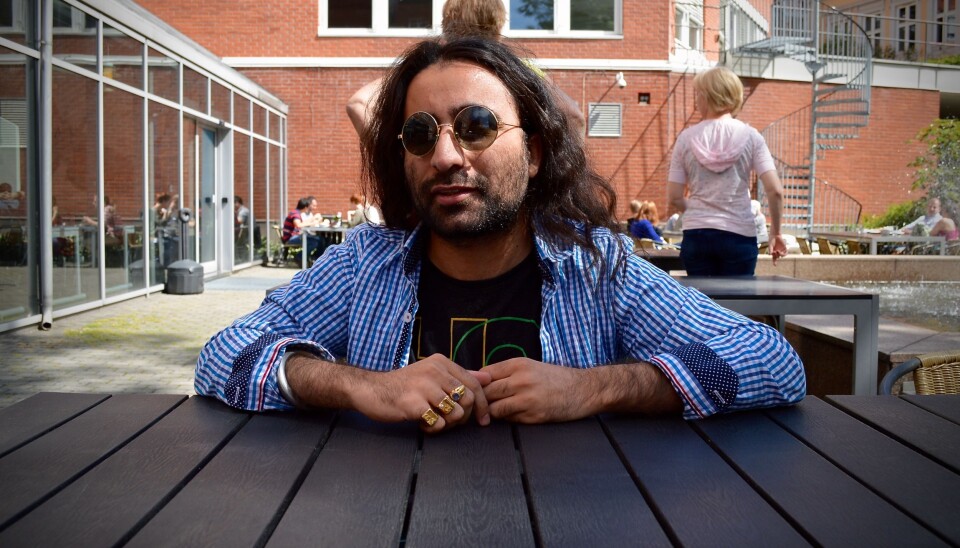 — It is too difficult to get work as a disabled person
He would have gone to a special school, and definitely not studied business, but his parents refused to let his disability become just that - a disability.
— When as a nine year old I was taken to the doctor and found that my eyesight had deteriorated, my mother told me that I was still normal - I could still do what ever I wanted, says Gagan Bir Singh Chhabra.
Read also: Fit for fight på jobbmarkedet
The second masters candidate has retinis pigmentosa, a degenerative eye disease that will eventually render him completely blind. At 28 years old he has between eight and ten percent vision.
— But we did not let it affect me. My mother was an amazing support. She would read my textbooks for me, and thankfully I have a good enough memory and managed to get through school with good results, he says.
Top business school
Norway has one of the highest unemployment rates for disabled people in the entire OECD
area.
Gagan Bir Singh Chhabra
From the age of fifteen nobody thought it was a good idea for him to study math or business due to his visual impairment. But he defied the advice.
— I am so grateful to my mother. Everybody wanted me to study arts or history or language, but I wanted to work in business so me and my mother worked hard to accomplish that vision.
She died in 2007 and never got to see her son succeed in their plan. He started business school the year after at the Indian Institute of Management in Bangalore, where he would complete a masters degree.
— It was our dream, and we succeeded.
— It is one of the top business schools in South Asia, Chhabra says adding that it has ties with NHH, London School of Economics and Copenhagen Business School, among others.
He then went on to work as a consultant for startup companies on human resource management, financing and market projections for a while. Even though it worked he realized that due to his impairment he could not excel as much in the business domain.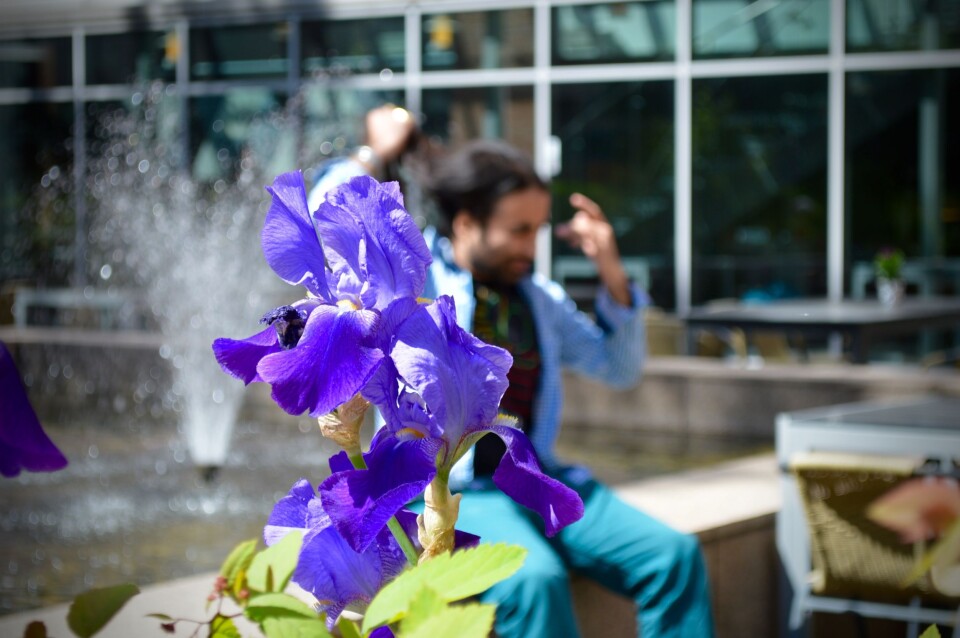 Coincidentally Norway
— A friend of mine was scheduled to do a talk about disability in a workshop on poverty and shame - a huge international conference back in 2011. But she could suddenly not attend and suggested I would to do it, says Chhabra.
And he did. As the youngest speaker he held a relaxed and personal talk on his experiences with disability. Among the attendants on the conference was Ivar Lødemel, a professor at Oslo and Akershus University College of Applied Sciences' (HiOAs) research group called Sosialforsk.
— He suggested studying in Norway, and serendipitously here I am.
Chhabra believes Lødemel saw a potential in him for an external view on the Norwegian welfare system.
Extra curricularly
He did not let his reduced vision impact school, and he did not let it stop him in other areas. He played basketball as long as it was possible, and when his eyesight got too bad he did a lot of debates and started climbing the intellectual curve.
In Norway he was president of the International Students Union (ISU) locally at HiOA his first year, he is now in his second year as Vice President of student welfare and academic affairs in ISU Norway, and just started his second year on the National Council of SAIH (Norwegian Students' and Academics' International Assistance fund).
— The second one felt like the area of responsibility for me, he says jokingly, adding that there are five people representing 18-19.000 international students at 27 Norwegian higher education institutions.
Wants to make a difference
— With my hardcore business background and experience with corporate strategy, and being from a country with a much less developed social welfare system I believe I definitely have something special to contribute, he says.
He sees definite weaknesses in the Norwegian employment policies for disabled people and yearns to become part of the influencing climate.
— I have worked a lot with Blindeforbundet. Norway has one of the highest unemployment rates for disabled people in the entire OECD area and it is rather difficult to enter into full time work as a blind or disabled person, he says.
— And I want to challenge that - I want to create incentives for employers to include disabled people into the labour market. When you are disabled in Norway you get payed a pension - just like that. If I give you 30.000 kroner per month for the rest of your life you will enjoy it for maybe a year.
— People do not want to talk about it. Norway needs regulatory policies that try to get people to work. In India work is very important for people. We say that «To work is to worship». It means that you are not realizing yourself if you are not working - it is essential for your existence.
That is why he is now applying to PhD-programmes in Norway.
Read also: Skal bidra til å få flere i arbeid
The reason he got this far
— My mother kept pushing me. My mother was a phenomenal woman. She was outspoken, took initiative, volunteered with Red Cross. That is what I mean when I say that my family was progressive: Traditionally India is very patriarchal, but my mother got free reign and got to choose helping me instead of doing house work or cooking - my father would instead go and buy dinner.
His family was middle class, «Not rich, not poor, but in the middle», he says. He went to St. Saviors high school, an English catholic school leaving him with excellent English language skills.
— Nå er jeg i Voksenopplæringa, since February, så jeg kan snakke litt norsk, he says, but admits that he is not yet able to convey complex thoughts that well in Norwegian.