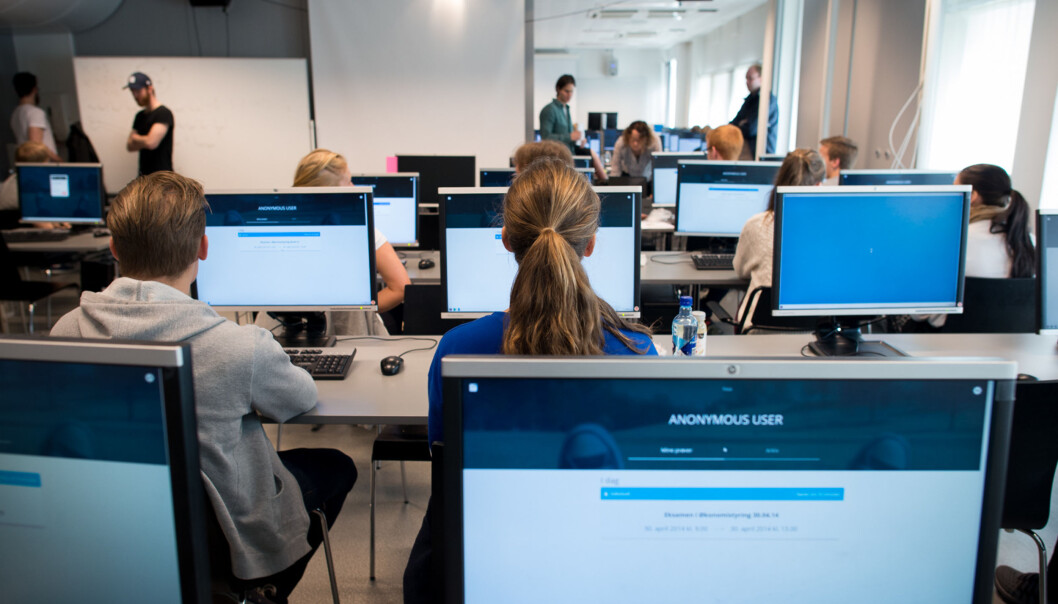 E-mail is killing the academic – but some digital tools are hopeful
Digital tools.

As educators and researchers in the academic environment, one in the global North, the other in the global South, Jan Storø and Adrian van Breda reflect on their shared experiences of digital tools as both enablers and time thieves.
Recently one of us (AVB) posted on Facebook a message about the increasing amount of emails in the university inbox. The other one (JS) reacted, as a friend and colleague from another part of the world, and invited him to co-write a little piece about this. We find it interesting that we both can recognize the same in our remote countries to be totally overwhelmed by digital tools; tools that in principal are good technical solutions.
First, here is the original Facebook post: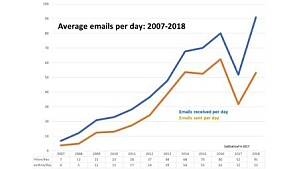 This observation is about e-mails. But we see this as just one example of digital tools as time thieves.
Jan Storø and Adrian van Breda
«Sometimes I wonder if my feeling that my work is increasingly demanding is just a subjective experience. But a quick analysis of the average number of emails I receive in my university inbox each working day (adjusted for incomplete years in 2007 and 2018) shows that I objectively have a massively increased workload year-on-year over the past 12 years. (Last year dipped significantly, because I was on sabbatical, but even then it was still higher than my first seven years at UJ.) Apparently, next year I can look forward to handling over 36,000 emails. It's sobering!»
This observation is about e-mails. But we see this as just one example of digital tools as time thieves. There are other tools that also consuming inordinate amounts of time relative to their benefit. In this article, we reflect as educators and researchers in the academic environment, one in the global North, the other in the global South, on our shared experiences of digital tools as both enablers and time thieves.
As an academic today, we spend a lot of our time at our computers. We do many different tasks on them using digital tools. These tools, at best, help us to solve problems within a range of topics that we are engaged in. We can communicate by them, with students and colleagues at home and abroad. This article, for example, was written by using e-mails between South-Africa and Norway – we could not have done this easily using older forms of postal services. We can use digital tools as powerful enablers in research. And in the classroom. And so on.
The paradox is that these new tools also create new problems. The most significant is that we need a lot of time to operate them.
Thanks to the digitization of academic processes, we see that the administrative staff of universities are cut down, and that teaching staff and researchers are instructed to manage more on their own, often by using the computer. Instead of asking someone to type a letter for you (the really old days), you write it yourself on your computer. The fantastic thing is that a few seconds later it is received on the other side of the world. But you have to do it yourself. Which mostly is good. But not totally.
A new tendency within universities today is what we could call the self-service model. One of our institutions (OsloMet) has implemented a whole range of digital tools during 2018. The most important are Canvas (for communicating with students), Leganto (for publishing the curriculum), TP (for publishing the daily and weekly teaching plans), EPN (for publishing the teaching modules on the web page of the university) and Inspera (for student`s exams and sensor`s markers). From a few years back, we have SAP (for presenting travel expenses for the university after a travel and other purposes), Cristin (for reporting published work to a national database) and others.
All of these tools have one thing in common: They are to be operated by the individual teacher/researcher. Each of them requires the academic to learn the new system and operate it independently. Whereas in the past, we spent our time mastering the subjects that we taught and researched, we now spend an inordinate amount of time mastering the digital tools we have to use to administrate, teach and research.
Because this article is published in a Norwegian paper, we decided that it would be interesting to give the South African space to present his favourite digital tools.
I admit to liking digital tools! I like that digital tools can do things for me in a shorter period than I can do it myself. And I like that these tools can often do it more accurately than me; or, at least, they will make mistakes consistently. I like that I can automate manual processes. I like that I can do creative things with these tools, like producing movies. And I like that they can extend the reach of my teaching beyond the classroom.
I admit to liking digital tools! I like that digital tools can do things for me in a shorter period than I can do it myself.
Adrian van Breda
For example, I use EndNote, a referencing programme. I've been using it for about twenty years, upgrading every few years. It is my number one digital tool. I find it useful for various reasons. It allows me to create a consolidated digital library of academic literature, including PDFs of the articles and other texts that I use in my research. I have 7,751 texts in my EndNote library, most with PDFs. By setting up my references with abstracts and keywords, I can search my library and locate texts, without trawling through a filing cabinet or endlessly searching my hard drive. Everything is at hand.
Moreover, I like that I can insert citations directly into my documents and EndNote will automatically create my reference list and format it to meet the requirements of each journal. Doing this by hand for an article – or worse, for a doctoral thesis – is excruciating. But doing it with EndNote means my citations and references always match, my formatting is always consistent, and I don't have to type and retype the same citations and references over and over. It is a hugely effective time saving and quality enhancing tool. I highly recommend it!
Another tool that I enjoy using is Mail Merge (it is part of the Microsoft Office suite). It links data documents (e.g. MS Excel spreadsheets) to text documents (e.g. MS Word documents) and exports these to email. So, for example, when I have a team of people marking my students' assignments, the markers capture their marks and comments in Excel. They email these to me, and I can easily analyse the marks to moderate them (similar mean and standard deviations). If one marker is marking too generously or harshly, I can easily adjust their marks using a formula – much faster and more accurate than doing this by hand. I then create a letter to my students in Word using the fields from Excel, combining their marks and comments into a customised email. I can also instruct Word to include certain text (e.g., an extra comment about a second chance if they failed) in the letter only if the student meets a certain criterion (e.g., less than 50% final mark). And then I use MS Outlook to send that letter out to each of my students in a single step. Each student gets a «Dear Siphathi» or «Dear Thabo» email. I find this saves me time and increases the personal engagement with my students.
But I try also to use it to enhance my students' learning, and particularly to do things that I could not do in the classroom.
Jan Storø and Adrian van Breda
A third tool that I find useful is Blackboard, the Learning Management System that my university uses. Typically, it is used as a kind of email system, to distribute readings and announcements to students. But I try also to use it to enhance my students' learning, and particularly to do things that I could not do in the classroom. A simple example is that I can divide my students into small discussion groups and give them topics to discuss in an online discussion group (like a blog). This facilitates dialogue and mutual learning between students (expressing Vygotskian theory of learning), outside of the classroom lecture, and enables me to cover topics I've not covered in class. It is also quite quick to mark.
A more complex example is how I teach referencing to my first-year under- and post-graduate students. In the past, I stood in front of the class and instructed them on how to reference and article or book chapter and how to insert citations. It took a lot of classroom time and was excruciatingly boring! Instead, I broke the learning up into six themes and developed a teaching unit on each, with PowerPoint slides (which I intend converting to videos using PowerPoint's clever video tool) and a short quiz (some multiple-choice questions, but mostly short questions where they must correct a reference or citation or create one based on information I provide). Blackboard's assessment tool is able to do all of this without me doing any manual marking. Using Blackboard's adaptive release function, I have created rules that if a student does not achieve a certain grade on a quiz, they are routed to a revision module with a parallel quiz. Students thus work their way through the six learning units as fast or as slow as they each need to. At the end is a consolidated online test, drawing on the previous six quizzes (randomly selected and sorted, so that each test is unique but parallel), which is for marks. This entire learning process is automated. It took time to set up, but since then, I need do only some annual tinkering of the system.
Notwithstanding my enthusiasm, there are other systems that are exceptionally time consuming with little value-add. We have, for example, an in-house institution-level system called MAMS (Managing Assessment Marks System) on which we capture marks for every assessment. The systems combine the various assessment marks into a year mark and adds it to the exam mark to generate a final mark, which is then transferred to the university's main academic system, from which academic records and supplementary exam lists are generated. The system makes sense, but is difficult to navigate and slow to operate. It lacks sensible sticky fields, treats the Enter key as an exit-the-programme key, requires one to repeat some functions two or three times before the take hold, is not available to staff off campus, requires a lengthy process to change one student's mark for one assignment, does not allow moderation of borderline marks, etc.
Prior to MAMS, we captured marks on an Excel spreadsheet, using formula to weight each assessment, with all the assessments on a single page. Lecturers would capture the marks on the sheet and make adjustments where necessary. After the exams, they'd hand the final marksheet to Faculty administration who would load it onto the system. Very efficient, very simple, not difficult.
The reasons for the change from the old to the new were pitched as enhancing governance (agreed), enabling students to receive their marks online (we released them online anyway), enabling Faculties or Departments to identify at-risk students and provide early interventions (there is nothing in the system that actually allows this), enabled Faculties or Departments to monitor and improve the quality of lecturers' marking (I've never heard of this actually being done), etc. In fact, MAMS provides nothing useful to students or lecturers that the old system could not, and takes double or triple the time to do. All with no additional administrative support staff.
The digital age is here, and will not disappear. We need to take its practical solutions in. There is a very good positive potential for developing our practice if we do.
The digital age is here, and will not disappear. We need to take its practical solutions in.
Jan Storø and Adrian van Breda
Lecturers are increasingly required to use an ever-widening range of digital tools – some branded and others internally developed – to get on with their core business: loading of publications for accreditation, leave applications, purchasing books for the library, travel applications, performance management, shared documents, etc. Tasks that used to be done by Faculty administrators are increasingly 'delegated' to lecturers at departments. There have been no appointments of additional Department administrators, so academic staff inevitably take on these new tasks.
There are some challenges. The use of these new tools has to be implemented. The real test of this implementation is referred to the everyday work situation of each academic. Whether the tools are proving to be useful and drive practice in an innovative direction depends very much on if and how the single academic take them in use. The moment of truth lies on our desk, each individual academic knows this.
The e-mail example shows that some of these tools can bring with them challenges that may overshadow their assets.
Some tasks actually were easier before. It is not difficult to choose between a fountain pen and a pencil. Today the choice between tools is much more complex. The good news is that the range of possibilities offered are much wider.
What we need is a new digital consciousness where each and every one of us goes on board to the wide variety of opportunities of these tools. But, if we shall succeed with this, it is vital that we do not get more and more administrative responsibilities via these tools. Then we will not discover their potential in the teaching process.