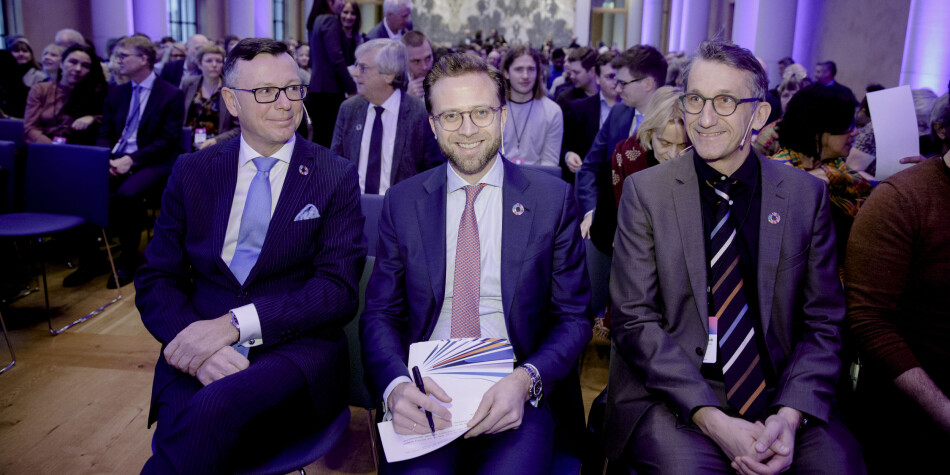 Direkte: Se bærekraftkonferansen her
Bærekraft.

Følg dag to av bærekraftkonferansen i Bergen her.
Her kan du følge bærekraftkonferansen fredag 7. februar. Dagens program finner du under vinduet med sendingen.
09:00-11:30 The Global Health Gap
SDG 3 calls for healthy lives and wellbeing for all at all ages by 2030. To achieve this goal, we need to address the global health gap, namely the huge health inequities that persist between rich and poor people (both within and across countries) and inequitable access to essential health services and technologies. There is much optimism that biomedical innovations and emerging technologies, notably digital technologies, can be harnessed to close the health gap. At the same time, major gaps in knowledge, evidence and finance and asymmetries of power shape the potential for emerging technologies to benefit health equity. How can improved access to health care and emerging technologies contribute to the SDGs: better health, a healthy workforce, eradication of extreme poverty, improved economic productivity and reduced inequalities? Including Q&A.
Keynote:
Dr. Sakiko Fukuda-Parr, Professor of International Affairs, the New School in New York, USA, and Director of the Independent Panel on Global Governance for Health
09:45-10:15 Break: coffee, tea, refreshements
Panellists:
Mr. Tore Lærdal, Lærdal Medical AS
Dr. Kristine Onarheim, University College London
Dr. Kalipso Chalkidou, Centre for Global Development, Washington DC and Imperial College London
Mr. Paul Fife, Director of the Department for Education and Global Health, Norad
Dr. Mahlet Kifle Habtemarian, Principal programme officer at Africa Centres for Disease Control and Prevention, Addis Ababa
Moderator:
Dr. Katerini Storeng, Centre for Development and the Environment, University of Oslo
11:30-12:00 SDGs in action
Introduction by Dr. Ole Frithjof Norheim, Professor, University of Bergen
Dr. Erlend Grønningen, Doctors Without Borders: Access to essential medicines.
PhD Candidate Emily Mclean, University of Bergen: Ethical dilemmas among abortion service providers in Addis Ababa, Ethiopia.
12:00-13:00 Lunch
13:00-14:10 National Platform for SDG Quality in Higher Education
Presentation of the National Platform for SDG Quality in Higher Education. Followed by Q&A after panel.
Dr. Solve Sæbø, Pro-rector Education, Norwegian University of Life Sciences
Comments on the National Platform for SDG Quality in Higher Education by:
Dr. Kenneth Ruud, Pro-Rector for research, UiT – The Arctic University of Norway
Dr. Sjur Baardsen, Rector, Norwegian University of Life Sciences
Dr. Svein Stølen, Rector, University of Oslo
Dr. Anne Borg, Rector, Norwegian University of Science and Technology
Dr. Dag Rune Olsen, Rector, University of Bergen and Chair, Universities Norway
Moderator:
Mr. Dankert Vedeler, former co-chair of the global SDG Education 2030 Steering Committee
Download the report: SDG - Quality in higher education: Developing a platform for sharing of ideas and practices
14:10–14:20 Closing remarks
Mr. Henrik Asheim, Minister of Research and Higher Education, Government of Norway
14:20-14:30 End of Conference
Dr. Annelin Eriksen, Vice-rector for Global Relations, University of Bergen