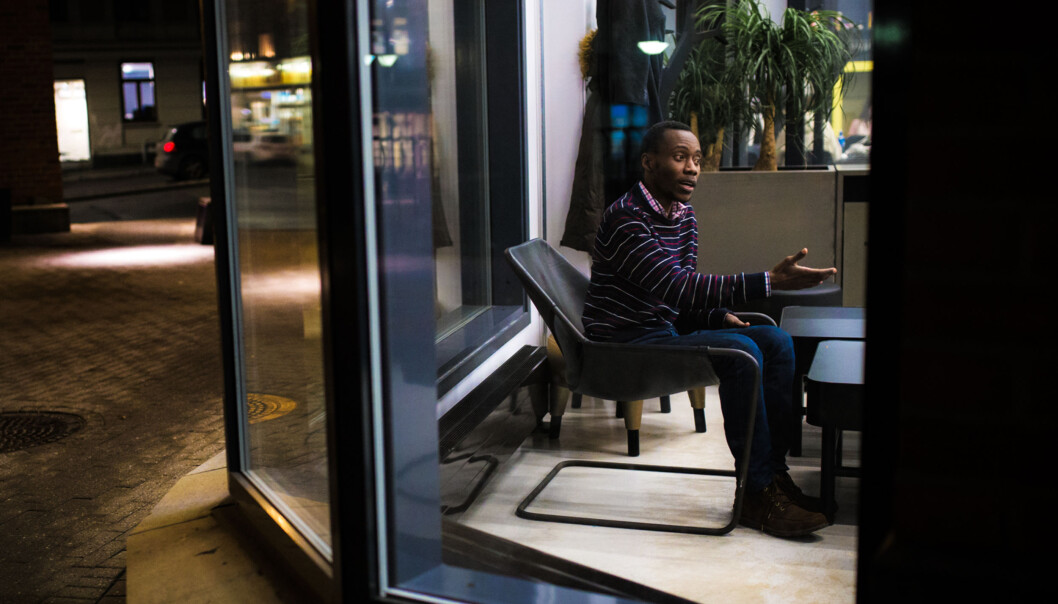 A grateful studyer of Norway
Henry Mutebe is an international student who chose Norway not just for the free education.
Henry Mutebe is 30 years old, or «happily thirty», as he puts it, and he is taking a master's degree in multicultural and international education, his second year, at Oslo and Akershus University College of Applied Sciences (HiOA).
He is also president of the International Students' Union at HiOA, and the first international student elected into the HiOA Student Parliament.
— I was shocked when I was elected, I did not expect it since I was competing with Norwegian students. And that was probably me being racist, but that taught me that sometimes people are not like you think they are. Norwegians celebrate diversity, he says.
Mutebe explains that the article about him being elected into student parliament was noted in four newspapers in Uganda:
— People did not understand it. «They voted for you, there?!», they asked me.
Mutebe is in Norway as part of the student quota scheme, where students come from developing countries, get an education and student financing through Lånekassen, and if they return to their home country to work there, their student debt will be waived after a year. The scheme has been discontinued. Henry Mutebe is of the last lot.
University closed
Henry Mutebe is concerned though. For several reasons, though not necessarily for himself.
Free education is a very prestigious value that Norway should keep. The American model has definitive
disadvantages.
Henry Mutebe
— My university in Kampala is closed, and has been for several months, he says, explaining that this will keep many students from not only writing applications to participate in exchange programs, but from taking their final exams, getting their diplomas - or applying their education to actual work.
Makerere University, Ugandas largest, has been closed due to lack of funding and the staff not getting paid. For the last few weeks talks have been going on, and the government has agreed to provide additional funding, and guarantee the lecturers pay.
Mutebe wrote about the closing in Khrono on December 9th, in an open letter: «Dear Ugandan Parliament».
The university reopened on December 24th last year.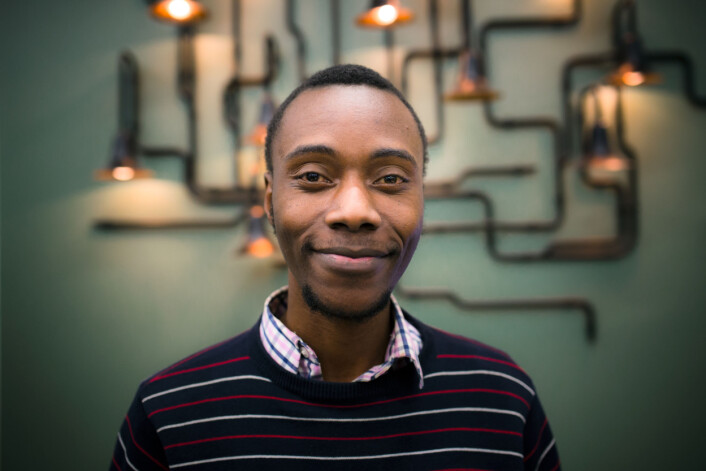 Had options
Mutebe explains that Norway creates ambassadors and strategic future investments abroad by providing education to students like him.
— Education is a strategic investment. It is self-defeating, when you think about it, to end the quota scheme, he says, pointing to the governments' policy.
But Mutebe didn't have to come to Norway. The free education was not the enticing bit, he had other options, scholarships offered from, amongst others, the prestigious London School of Economics.
— I came to Norway because it holds a special place in animating action towards global peace and development. Norway has provided exemplary leadership in supporting global development. It is a peace developer, and because of how equal it is, I wanted to learn from it, he says.
— Norway is very special.
Mutebe says that he has not experienced racism in Norway.
— But if I did that would not put me down, because I know that that would be just one person. The larger Norwegian public believes in equality and wants good things for others. As long as that is there, that is what is important, he says, adding:
— The larger Norwegian values will persevere over anti-migrant sentiments.
Need to connect more than to disconnect
— But what do you say to Torbjørn Røe Isaksen when he says that he wants to introduce student fees for international students?
— I would want him to reconsider. This has longterm negative consequences as long as people stay poor, he says, continuing:
— It defeats the purpose of providing opportunity, about sharing wealth - that is part of Norway's culture. They would be fighting long established values that the Norwegian public cherish.
— But what if that is their intent?
— Then that is unfortunate. The world is getting so connected that there is need for more cross-cultural interaction and understanding. We need to connect more than we need to disconnect.
And he goes on, stating that Norway should stay the country that leads in social mobility, that is free and equal, where everyone has the same opportunities.
— That is what makes Norway different. Perhaps Norwegians don't see it, but for outsiders it is very easy to see.
Mutebe says that Norway should not be tempted to follow other countries who struggle a lot more than Norway does.
— Free education is a very prestigious value that Norway should keep. The American model has definitive disadvantages.
No room for being grateful
Mutebe tries to explain the lack of opportunity to show appreciation for what the Norwegian government actually does for him, and other international students.
— We are sponsored and supported by the government, but we don't get much room to show that we are grateful, he says.
— If only Norwegians knew how grateful we are and what impact it has in making our countries better.
He believes that the lack of follow up on success stories and what he calls «the black out of information on the experiences of beneficiaries of the program» makes the public feel like maybe the money is just being wasted.
— But the truth is, the support makes such a big difference. We are Norwegian ambassadors abroad who will always think about it when we are out there. We need to show the public that it works, he says.
Read also: The dilemma created by the absence of the student quota scheme
10 percent international students
— The article Khrono wrote about me winning the student election; Norway was trending in Uganda. My professors were like wow, he says, explaining that people back home now have a different picture of what Norway is:
— People now understand that Norway is an open society that welcomes and celebrates diversity.
Half of that article's readers were Ugandan.
— Do you feel ready for student parliament?
— I feel I am ready. I am reading the policies, and have attended the current parliament's session. The leadership installed an application on my laptop that translated the meeting continuously, he answers.
— And are they ready for you?
— It is not easy for them, but they are making a very good effort, and I feel included. But things can only change if they push. It will result in the parliament being more inclusive to international students. If you have a 10 percent international student population then you have to make adjustments. And when HiOA wants to become an international institution, that reality needs to be accommodated.
According to the Norwegian Center for Research Data, 25 out of 269 thousand students in Norway are internationals. At HiOA it is 1.760 out of 20.460.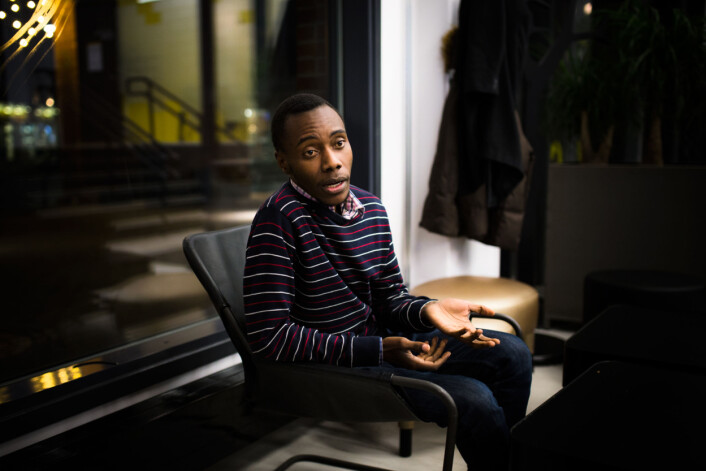 First time outside of the English bubble
Getting back into it, Mutebe explains that in Uganda English is the official language. And even though schools are supposed to teach in the mother tongue for the first three years, they don't.
— In Uganda, most societies don't speak English, but when the children go to school they are immediately introduced to English as the language of instruction. This causes problems in learning, he says.
Their mother tongues range between the 52 different tribes in the country. The largest tribe, however, is 7 million people, and when he came to Norway and saw that, with a population of 5 million, one could go all the way to a PhD in Norwegian, he was astonished:
— The main reason why children fail in my part of the world is that we learn by copy and paste. When you don't learn English from a basic level you can't be a part of the learning process, he says, adding:
— In order to promote understanding children must first learn their mother tongue.
Mutebe explains how 80 percent of the teachers, when put through the same curricular tests that they give their students (in English), could not pass the tests themselves.
— I did not even know that math could be translated to other languages before I came to Norway, he says.
— I thought English is the language of science. So coming to Norway was a very good de-colonizing experience. As I saw Norwegians using their language, I realized that there is a whole complete world outside English and that perhaps we also need to develop our languages back home. People understand things better if they are using their own language.
Mutebe wants to continue to do a PhD when he finishes his master's thesis, and wants to do research on this context which he explains as the decolonization of education, a remnant of the British colonies.
Not stupid
— How do you celebrate Christmas at home? Do you celebrate Christmas?
The question could be stupid, a question poking at another result of British colonialism, to someone from a culture far-far away from Norway. But it wasn't. 86 percent of the population in Uganda is Christian, according to Mutebe.
— We eat a lot of food, he starts.
— A lot. Even the poorest families save money to have enough food at Christmas. People go home to the villages, to their parents or grandparents. On a typical Christmas day, we will be 20-30 people at home. My brothers and sometimes my sister all bring their families and we gather at either my parents or grandmothers home.
And even though they feast on meats as well, the most important menu participant is Matooke, a type of not-sweet banana. In Uganda and Rwanda the fruit is steam-cooked, and the mashed meal is the national dish.
— It has to be on the menu. If you haven't had Matooke then you haven't eaten. And then we have beef and rice and beans, lots of greens. As much as you can, in large quantities. Those who drink, drink themselves silly. And in the evening they go out and party.
Mutebe recalls when he first met the Norwegian cold lunch, with lots of bread.
— I did not go to the bathroom for a week when I first got here, he says in all seriousness. Adding how ridiculous some of the things Norwegians call food is, «like pizza», he says, laughing loudly.
Felt alone for the first time
— I started getting depressed when I first got here, he says, his energized way of talking defusing the supposed seriousness. Additionally, the talk of Norwegian diet-caused constipation might do that.
— People were so quiet. On the tram, on the bus - so quiet! And then when a baby started crying I thought: «Thank goodness. This is still a society!» Here, for the first time in my life, I felt alone.
He continues explaining that after a while he understood that Norwegians just want their space, to be alone, or to read. And when he returned home to Kampala he suddenly found himself needing time alone. He was infected.
— At home we don't have have this large spectrum of interaction. It is like the temperature. Summer and winter is between 20 and 28 degrees at home, here the differences are larger.
— Do you talk to people on the bus here now?
— Older people, yes. When I see an elderly person I want them to sit so it's easier to engage them and ask them to come and take my seat. But not very much with younger people. They are usually on their phones or listening to music, and I don't want to look stupid.