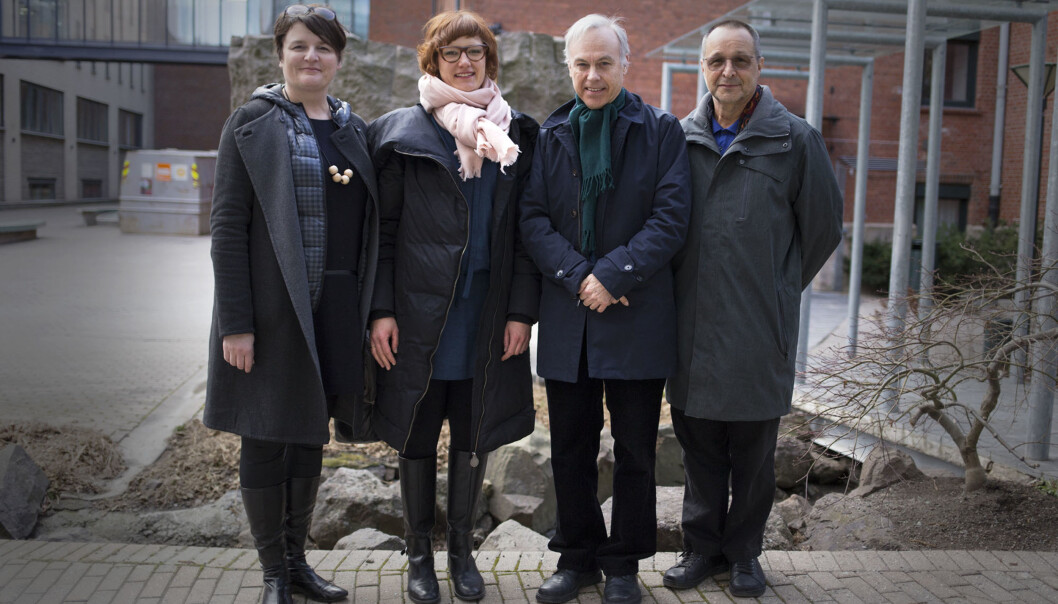 Building Canadian-Norwegian courses
Academic departments in product and industrial design in Norway and Canada are continuing the development of an education and research partnership.
OBS! Denne artikkelen er mer enn tre år gammel, og kan inneholde utdatert informasjon.
Representatives from OCAD University have been visiting Oslo and Akershus University College of Applied Sciences (HiOA) this week. 
Jon Samseth, physics professor at product design at HiOA, is the initiator of the relationship. His visitors from Canada and OCAD University are Jana Macalik, Paul Epp and Angelika Seeschaaf Veres. 
They are building joint curriculum and lecture programs, and establishing exchange opportunities for both students and researchers.
— The program will start with the curricular aspects, cooperating on lectures and sharing knowledge, says Veres, assistant professor in design, and continues:
— Later it will be possible for students to cooperate on developing projects intercontinentally, and exchange between the institutions.
One important goal is having internship opportunities in private companies for exchange
students.
Paul Epp
Development grants
Institute for product design at HiOA received a NOK 150.000 grant in 2013, and the same NOK 200.000 for 2014, from the Norwegian government. 
The grants are for developing partnerships with higher education institutions in Northern America and will fund setting up the co-op between the two universities.
— One important future goal is having internship opportunities in private companies for exchange students, says Paul Epp.
Diverse ambition
Paul Epp has spent most of his career designing furniture. He is now chair of the industrial design program at OCAD University, and intends to benefit from forest products technology, a field in which Norway is especially advanced. He has been a part of developing the relation with HiOA since 2013.
— Even though this is a Norwegian initiative, we are very excited and ready to push it forward, says Epp.
Veres sees a potential in developing 3D printing in cellulose based materials, whereas Jon Samseth and Jana Macalik sees trans disciplinary opportunities.
Promising
OCAD University recently became a university, in 2010, and is the largest and oldest educational institution for art and design in Canada. Since then they have been reaching out to develop international networks with the most reputable design institutions in the world.
— The arrangement with Samseth and HiOA is very promising, says Jana Macalik, dean of research, outreach and strategic projects at OCAD University.
The similarities and connections between Canada and Norway are strong. Already in 1913 Canadian landscape painting was strongly influenced by the Scandinavian painters after an exhibit in Buffalo, New York. These painters later became known as the «Group of Seven» and were active between 1920 and 1933. Most of these painters were students or teachers at OCAD University, previously known by the name Ontario College of Art.
In the same creative spirit the team wants to develop an enriched design educational collaboration between the two countries, which is to be known as the CaNo Program.